Big data preprocessing: methods and prospects
Big Data Analytics
2016
1:9
Received: 6 January 2016
Accepted: 15 September 2016
Published: 1 November 2016
Abstract
The massive growth in the scale of data has been observed in recent years being a key factor of the Big Data scenario. Big Data can be defined as high volume, velocity and variety of data that require a new high-performance processing. Addressing big data is a challenging and time-demanding task that requires a large computational infrastructure to ensure successful data processing and analysis. The presence of data preprocessing methods for data mining in big data is reviewed in this paper. The definition, characteristics, and categorization of data preprocessing approaches in big data are introduced. The connection between big data and data preprocessing throughout all families of methods and big data technologies are also examined, including a review of the state-of-the-art. In addition, research challenges are discussed, with focus on developments on different big data framework, such as Hadoop, Spark and Flink and the encouragement in devoting substantial research efforts in some families of data preprocessing methods and applications on new big data learning paradigms.
Keywords
Big dataData miningData preprocessingHadoopSparkImperfect dataData transformationFeature selectionInstance reduction
Background
Vast amounts of raw data is surrounding us in our world, data that cannot be directly treated by humans or manual applications. Technologies as the World Wide Web, engineering and science applications and networks, business services and many more generate data in exponential growth thanks to the development of powerful storage and connection tools. Organized knowledge and information cannot be easily obtained due to this huge data growth and neither it can be easily understood or automatically extracted. These premises have led to the development of data science or data mining [1], a well-known discipline which is more and more present in the current world of the Information Age.
Nowadays, the current volume of data managed by our systems have surpassed the processing capacity of traditional systems [2], and this applies to data mining as well. The arising of new technologies and services (like Cloud computing) as well as the reduction in hardware price are leading to an ever-growing rate of information on the Internet. This phenomenon certainly represents a "Big" challenge for the data analytics community. Big Data can be thus defined as very high volume, velocity and variety of data that require a new high-performance processing [3].
Distributed computing has been widely used by data scientists before the advent of Big Data phenomenon. Many standard and time-consuming algorithms were replaced by their distributed versions with the aim of agilizing the learning process. However, for most of current massive problems, a distributed approach becomes mandatory nowadays since no batch architecture is able to tackle these huge problems.
Many platforms for large-scale processing have tried to face the problematic of Big Data in last years [4]. These platforms try to bring closer the distributed technologies to the standard user (enginners and data scientists) by hiding the technical nuances derived from distributed environments. Complex designs are required to create and maintain these platforms, which generalizes the use of distributed computing. On the other hand, Big Data platforms also requires additional algorithms that give support to relevant tasks, like big data preprocessing and analytics. Standard algorithms for those tasks must be also re-designed (sometimes, entirely) if we want to learn from large-scale datasets. It is not trivial thing and presents a big challenge for researchers.
The first framework that enabled the processing of large-scale datasets was MapReduce [5] (in 2003). This revolutionary tool was intended to process and generate huge datasets in an automatic and distributed way. By implementing two primitives, Map and Reduce, the user is able to use a scalable and distributed tool without worrying about technical nuances, such as: failure recovery, data partitioning or job communication. Apache Hadoop [6, 7] emerged as the most popular open-source implementation of MapReduce, maintaining the aforementioned features. In spite of its great popularity, MapReduce (and Hadoop) is not designed to scale well when dealing with iterative and online processes, typical in machine learning and stream analytics [8].
Apache Spark [9, 10] was designed as an alternative to Hadoop, capable of performing faster distributed computing by using in-memory primitives. Thanks to its ability of loading data into memory and re-using it repeatedly, this tool overcomes the problem of iterative and online processing presented by MapReduce. Additionally, Spark is a general-purpose framework that thanks to its generality allows to implement several distributed programming models on top of it (like Pregel or HaLoop) [11]. Spark is built on top of a new abstraction model called Resilient Distributed Datasets (RDDs). This versatile model allows controlling the persistence and managing the partitioning of data, among other features.
Some competitors to Apache Spark have emerged lastly, especially from the streaming side [12]. Apache Storm [13] is an open-source distributed real-time processing platform, which is capable of processing millions of tuples per second and node in a fault-tolerant way. Apache Flink [14] is a recent top-level Apache project designed for distributed stream and batch data processing. Both alternatives try to fill the "online" gap left by Spark, which employs a mini-batch streaming processing instead of a pure streaming approach.
The performance and quality of the knowledge extracted by a data mining method in any framework does not only depends on the design and performance of the method but is also very dependent on the quality and suitability of such data. Unfortunately, negative factors as noise, missing values, inconsistent and superfluous data and huge sizes in examples and features highly influence the data used to learn and extract knowledge. It is well-known that low quality data will lead to low quality knowledge [15]. Thus data preprocessing [16] is a major and essential stage whose main goal is to obtain final data sets which can be considered correct and useful for further data mining algorithms.
Big Data also suffer of the aforementioned negative factors. Big Data preprocessing constitutes a challenging task, as the previous existent approaches cannot be directly applied as the size of the data sets or data streams make them unfeasible. In this overview we gather the most recent proposals in data preprocessing for Big Data, providing a snapshot of the current state-of-the-art. Besides, we discuss the main challenges on developments in data preprocessing for big data frameworks, as well as technologies and new learning paradigms where they could be successfully applied.
Data preprocessing
The set of techniques used prior to the application of a data mining method is named as data preprocessing for data mining [
16
] and it is known to be one of the most meaningful issues within the famous Knowledge Discovery from Data process [
17
,
18
] as shown in Fig.
1
. Since data will likely be imperfect, containing inconsistencies and redundancies is not directly applicable for a starting a data mining process. We must also mention the fast growing of data generation rates and their size in business, industrial, academic and science applications. The bigger amounts of data collected require more sophisticated mechanisms to analyze it. Data preprocessing is able to adapt the data to the requirements posed by each data mining algorithm, enabling to process data that would be unfeasible otherwise.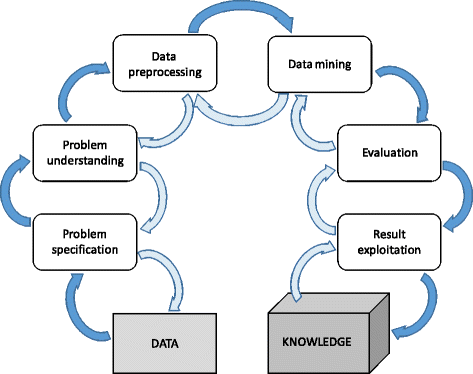 Albeit data preprocessing is a powerful tool that can enable the user to treat and process complex data, it may consume large amounts of processing time [
15
]. It includes a wide range of disciplines, as data preparation and data reduction techniques as can be seen in Fig.
2
. The former includes data transformation, integration, cleaning and normalization; while the latter aims to reduce the complexity of the data by feature selection, instance selection or by discretization (see Fig.
3
). After the application of a successful data preprocessing stage, the final data set obtained can be regarded as a reliable and suitable source for any data mining algorithm applied afterwards.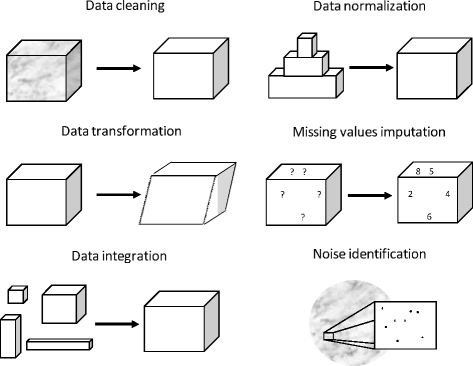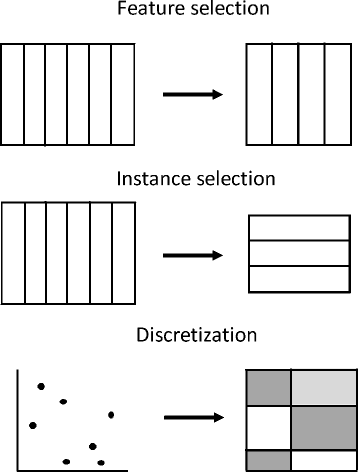 Data preprocessing is not only limited to classical data mining tasks, as classification or regression. More and more researchers in novel data mining fields are paying increasingly attention to data data preprocessing as a tool to improve their models. This wider adoption of data preprocessing techniques is resulting in adaptations of known models for related frameworks, or completely novel proposals.
In the following we will present the main fields of data preprocessing, grouping them by their types and showing the current open challenges relative to each one. First, we will tackle the preprocessing techniques to deal with imperfect data, where missing values and noise data are included. Next, data reduction preprocessing approaches will be presented, in which feature selection and space transformation are shown. The following section will deal with instance reduction algorithms, including instance selection and prototype generation. The last three section will be devoted to discretization, resampling for imbalanced problems and data preprocessing in new fields of data mining respectively.
Big data preprocessing
This section aims at detailing a thorough list of contributions on Big Data preprocessing. Table
1
classifies these contributions according to the category of data preprocessing, number of features, number of instances, maximum data size managed by each algorithm and the framework under they have been developed. The size has been computed multiplying the total number features by the number of instances (8 bytes per datum). For sparse methods (like [
59
] or [
60
]), only the non-sparse cells have been considered. Figure
4
depicts an histogram of the methods using the size variable. It can be observed as most of methods have only been tested against datasets between zero an five gigabytes, and few approaches have been tested against truly large-scale datasets.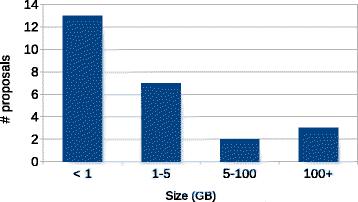 Table 1
Analyzed methods and the maximum data size managed by each one
| Methods | Category | # Features | # Instances | Size (GB) | Framework |
| --- | --- | --- | --- | --- | --- |
| [70] | FS | 630 | 65,003,913 | 305.1196 | Hadoop MapReduce |
| [69] | FS | 630 | 65,003,913 | 305.1196 | Hadoop MapReduce |
| [74] | FS | 1,156 | 5,670,000 | 48.8350 | MPI |
| [60] | FS | 29,890,095 | 19,264,097 | 4.1623 | C++/MATLAB |
| [59] | FS | 100,000 | 10,000,000 | 1.4901 | MapReduce |
| [76] | FS | 100 | 1,600,000 | 1.1921 | Apache Spark |
| [80] | FS | 127 | 1,131,571 | 1.0707 | Hadoop MapReduce |
| [71] | FS | 54,675 | 2,096 | 0.8538 | Hadoop MapReduce |
| [75] | FS | 54 | 581,012 | 0.2338 | Hadoop MapReduce |
| [73] | FS | 20 | 1,000,000 | 0.1490 | MapReduce |
| [77] | FS | – | – | 0.0976 | Hadoop MapReduce |
| [79] | FS | 256 | 38,232 | 0.0729 | Hadoop MapReduce |
| [68] | FS | 52 | 5,253 | 0.0020 | Hadoop MapReduce |
| [78] | FS | – | – | 0.0000 | Hadoop MapReduce |
| [67] | FS | – | – | 0.0000 | Hadoop MapReduce |
| [72] | FS | – | – | 0.0000 | Hadoop MapReduce |
| [83] | Imbalanced | 630 | 32,000,000 | 150.2037 | Hadoop MapReduce |
| [84] | Imbalanced | 630 | 32,000,000 | 150.2037 | Hadoop MapReduce |
| [90] | Imbalanced | 630 | 16,000,000 | 75.1019 | Apache Spark |
| [89] | Imbalanced | 41 | 4,856,151 | 1.4834 | Hadoop MapReduce |
| [82] | Imbalanced | 41 | 4,000,000 | 1.2219 | Hadoop MapReduce |
| [81] | Imbalanced | 14 | 1,432,941 | 0.1495 | Hadoop MapReduce |
| [86] | Imbalanced | 9,731 | 1,446 | 0.1048 | Hadoop MapReduce |
| [91] | Imbalanced | 14 | 524,131 | 0.0547 | Hadoop MapReduce |
| [87] | Imbalanced | 36 | 95,048 | 0.0255 | Hadoop MapReduce |
| [88] | Imbalanced | 8 | 2,687,280 | 0.0200 | Hadoop MapReduce |
| [93] | Incomplete | 625 | 4,096,000 | 19.0735 | MapReduce (Twister) |
| [92] | Incomplete | 481 | 191,779 | 0.6873 | Hadoop MapReduce |
| [95] | discretization | 630 | 65,003,913 | 305.1196 | Apache Spark |
| [96] | discretization | 630 | 65,003,913 | 305.1196 | Apache Spark |
| [94] | discretization | – | – | 4.0000 | Hadoop MapReduce |
| [97] | IR | 41 | 4,856,151 | 1.4834 | Hadoop MapReduce |
Once seen a snapshot of the current developments in Big Data preprocessing, we will give shorts descriptions of the contributions in the rest of this section. First, we describe one of the most popular machine learning library for Big Data: MLlib; which brings a wide range of data preprocessing techniques to the Spark community. Next the rest of sections will be devoted to enumerate those contributions presented in the literature, and categorized and arranged in the Table 1.
Challenges and new possibilities in big data preprocessing
This last section of the paper will be devoted to point out all the existing lines in which the efforts on Big Data preprocessing should be made in the next years. The new possibilities on this topic will be centered onto three main key points: new technologies, to scale the data preprocessing techniques and new learning paradigms on which they can be applied.
New technologies
As we can see in previous content of this paper, new technologies for Big Data are emerging in the last years and few attempts of data preprocessing proposals can be found adapted to take advantage of them. It is clear that Spark [10] is offering better performance results than Hadoop [7] in processing. But also, Spark is a newer technology and there has been little time to develop ideas until now. Thus, the near future will offer new methods developed in Spark under the library MLlib [61] which is growing increasingly.
It is worth mentioning that other emerging platform, such as Flink [14], are bridging the gap of stream and batch processing that Spark currently has. Flink is a streaming engine that can also do batches whereas Spark is a batch engine that emulates streaming by micro-batches. This results in that Flink is more efficient in terms of low latency, especially when dealing with real time analytical processing.
In the particular case of data preprocessing in Spark, excepting basic data preprocessing, we can find some developments in FS and discretization for Big Data. Spark is a more mature technology and implements MLlib with tens of already available learning algorithms. This will make easy and encourage the integration of novel data preprocessing methods in a near future. However, it is desirable to start the development of data preprocessing techniques on Flink, in particular with streaming and real-time applications.
Scaling data preprocessing techniques to deal with big data
Another remarkable outcome derived from the previous analysis of existing Big Data preprocessing techniques is that most of the effort has been devoted to the development of FS methods, and even there are some data preprocessing families in which nothing or almost nothing has been done.
Instance reduction: these techniques will allow us to arrange a subset of data to carry out the same learning tasks that we could do with original data, but with a low decrease of performance. It is very desirable to have a complete set of instance reduction techniques to obtain subsets of data from big databases for certain purposes and paradigms. The key problem is that these techniques have to be re-adjusted to deal with large scale data, they require high computation capabilities and they are assumed to follow an iterative procedure.

Missing values imputation: it is a hard problem in which many relationships among data have to be analyzed to estimate the best possible value to replace a missing value.

Noise treatment: it is again a complex problem in which decisions depend on two perspectives: the computation of similarities among data points and the run and fusion of several decisions coming from ensembles to enable the noise identification approach.
Additionally, there is an open issue related to the arrangement and combination of several data preprocessing techniques to achieve the optimal outcome for a data mining process. This is discussed in [99], where the most influential data preprocessing techniques are presented and some instructive experimental studies emphasize the effects caused by different arrangement of data preprocessing techniques. This is an original complex challenge, but it will be more complex according to the data scales in Big Data scenarios. This complexity may also be influenced by other factors that mainly depends of the data preprocessing technique in question; such as its dependency of intermediate results, its capacity of treating different volumes of data, its possibility of parallelization and iterative processing, or even the input it requires or the output it provides.
New big data learning paradigms
Data mining is not a static field and new problems are continuously arising. In consequence data preprocessing techniques are evolving along with data mining and with the appearance of new challenges and problems that data mining tries to tackle, new proposals of data preprocessing methods have been proposed.
These problems are becoming a part of the Big Data universe and they are being currently addressed by some of the mentioned technologies [
100
]. In addition, they will require data preprocessing techniques to ensure high quality solutions and good performance in the results obtained. This is another major challenge for Big Data preprocessing and it will concern different learning paradigms, besides classification and regression, such as:
Conclusions
At the present, the size, variety and velocity of data is huge and continues to increase every day. The use of Big Data frameworks to store, process, and analyze data has changed the context of the knowledge discovery from data, especially the processes of data mining and data preprocessing. In this paper, we presented a review on the rise of data preprocessing in cloud computing. We presented a updated categorization of data preprocessing contributions under the big data framework. The review covered different families of data preprocessing techniques, such as feature selection, imperfect data, imbalanced learning and instance reduction as well as the maximum size supported and the frameworks in which they have been developed. Furthermore, the key issues in big data preprocessing were highlighted.
In the future, significant challenges and topics must be addressed by the industry and academia, especially those related to the use of new platforms such as Apache Spark/Flink, the enhancement of scaling capabilities of existing techniques and the approach to new big data learning paradigms. Researchers, practitioners, and data scientists should collaborate to guarantee the long-term success of big data preprocessing and to collectively explore new domains.
Declarations
Acknowledgements
This work was partially supported by the Spanish Ministry of Science and Technology under project TIN2014-57251-P and the Andalusian Research Plan P11-TIC-7765.
Authors' contributions
All authors have contributed equally to finish this paper. All authors read and approved the final manuscript.
Competing interests
The authors declare that they have no competing interests.
Open Access This article is distributed under the terms of the Creative Commons Attribution 4.0 International License (http://creativecommons.org/licenses/by/4.0/), which permits unrestricted use, distribution, and reproduction in any medium, provided you give appropriate credit to the original author(s) and the source, provide a link to the Creative Commons license, and indicate if changes were made. The Creative Commons Public Domain Dedication waiver (http://creativecommons.org/publicdomain/zero/1.0/) applies to the data made available in this article, unless otherwise stated.
Authors' Affiliations
(1)
Department of Computer Science and Artificial Intelligence, University of Granada, Granada, Spain