Expressive modeling for trusted big data analytics: techniques and applications in sentiment analysis
Big Data Analytics
2017
2:5
Received: 21 May 2016
Accepted: 21 October 2016
Published: 1 February 2017
Abstract
Background
Sentiment analysis becomes ubiquitous for a variety of applications used in marketing, commerce, and public sector. This has been raising a natural interest within the academic research and industry to develop approaches and solutions for ubiquitous sentiment analysis. However, we can observe that most of the academic research focuses on adopting state-of-the-art machine learning techniques for sentiment classification and elements of natural language processing for feature construction and evaluate them on benchmark datasets not regarding much the actual application settings. In industry the focus is on developing platforms, services and customized solutions for certain applications and for different domains. In this work we propose a generic framework for ubiquitous sentiment classification. We discuss the Rule-Based Emission Model (RBEM) algorithm that we employ for polarity detection.
Results
We show with the experimental results on benchmark datasets and real case studies that the proposed framework and RBEM approach for polarity detection are indeed generic and extendable.
Conclusion
As the state-of-the-art machine learning techniques produce black-box models for sentiment analysis, they are hard to fine-tune, debug and adapt to new domains. The necessity to collect lots of labeled data from a particular domain is another obstacle. Therefore, in industry rather simplistic approaches are adopted resulting potentially in poor accuracy. The proposed framework for sentiment analysis allows to develop different solutions that are scalable, transparent, and easy to maintain.
Keywords
Sentiment analysisTrust in Big DataRule-based mining
Background
The field of sentiment analysis is given more and more attention of the past few years [1, 2]. In commercial settings, brand-awareness and online reputation management (ORM) are crucial factors tightly linked with KPIs that require proper sentiment analysis to be put in place. In these practical settings however, typical sentiment analysis approaches are often too simplistic to successfully perform the task at hand or are overly complex but not transparent. The latter affects the possibility of adapting such sentiment analysis approaches to a certain domain of interest and results in either poor performance or high maintenance overhead. There is hence a big need for a low entry-level approach with high accuracy, easy adaptation and high maintainability1.
In this work we present a framework for ubiquitous sentiment analysis. The framework facilitates the development of sentiment analysis tools that are reasonably accurate, have low maintenance overhead and easy adaptation to new applications. The framework we provide is designed to develop solutions that are:
extendable to suit an application's needs;

scalable to process large amounts of data, for example originating from social media;

applicable in a generic setting yet easily adaptable to specific domains or application areas;

transparent in their use due to the ease of human-understanding of the rule-based learners and their models; hence the developed solutions are also more trustworthy and much easier to improve and maintain;

portable to run on devices with variations of computational resources including resource-constrained devices (e.g., smartphones and tablet computers); and

allowing for fine-grained analysis, e.g. expanding the models and performing coarse-grained OLAP analysis that is useful for applications such as ORM and brand monitoring.
We present different use cases to demonstrate these properties. Besides the core sentiment classification part, we also show data collection and storage methodologies typically required in applicative settings to provide a fully-working solution rather than the sentiment analysis is isolation.
At the core of our framework is the polarity detection algorithm called RBEM. This algorithm is further describes in "Polarity detection with RBEM" section. As pre-processing steps we performing language identification and part-of-speech tagging. This three-step approach is our actual working approach for performing sentiment analysis. Around this working pipeline, we construct data collection and data access interfaces that can extract data from different source systems in an independent way. Upon completion of sentiment analysis, the framework allows for persistent storage of the individual results as well as aggregated results. This way, fine-grained analysis can be performed to eg. expand the models and coarse-grained OLAP analysis can be performed to gain insights, the latter being typically interesting for applications such as ORM and brand monitoring.
The rest of the paper is organized as follows. We introduce our framework for ubiquitous sentiment analysis in "Methods" section. In "Polarity detection with RBEM" section we consider Rule-Based Emission Model (RBEM) heuristics, training and classification procedures and their accuracy on the constructed bechmarks that we make publicly available. Five different use-cases taken from real developed solutions used as commercial services and research prototypes are presented in "Results and discussion" section. We describe related work in "Related Work" section. "Conclusions" section concludes the paper.
Methods
Overall processing pipeline
Our sentiment analysis system is implemented as an extendable framework presented in Fig.
1
. This framework allows to crawl and scrape different data sources, mainly focusing on social media, for data that can serve as input for the sentiment analysis process. The analysis of the e-mails is implemented as a subsystem separated from the social media sources. This is done for pragmatic reasons – people who use mainly e-mail or mainly social media can use one of the plug-ins. For similar reasons, the SMS interface is also decoupled from the other data interfaces. As the information retrieved from various social media, SMS and e-mails differs in format, we use an abstraction layer such that all input looks the same to our sentiment analysis process.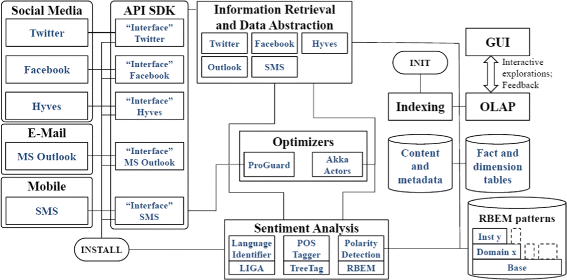 The sentiment analysis itself in our setting consists of three steps but due to the nature of the framework, more steps can be added without jeopardizing the other steps. For example, an emotion classifier – a more elaborate case of sentiment analysis where the emotion of a message is automatically extracted – can be added as an additional step. Each of the separate steps of our framework can also be extended, modified or replaced to suit different purposes. As the output of one step is the input of the other step, there is no dependency between the actual operational properties of the steps but only on the input and the output.
We assume language identification and part-of-speech tagging to be untouched by domain-specificity and hence we do not use domain-specific models or approaches for those two steps (see e.g. [3] for supporting evidence on language identification). For polarity detection however, we think domain-specificity is a necessity. Consider for example using the word 'horrifying' in the domain of automotive. A 'horrifying car' is a negative sentiment and hence this word indicates it as being such. Considering the domain of (horror) movies however, we find that this word indicates positivity. To this end we use a layered approach in constructing and applying the models for polarity detection. We start with a generic and domain-independent base-model - one per language. This model is the largest model and contains generic polarity information, for example indicating that the word good is positive. On top of this base model we define domain-models. Domain-models overrule base-models when intersecting and are much more specific. They can contain indicators like the word horrifying for automotive and horror movies in our example. Finally, we also allow for instance-models. These models are tailored towards one specific instance, application or usage of the model. In the setting of ORM, such a model might interpret anything positive about competitors as negative and anything negative about competitors as positive. Since competitors are specific to a given brand or entity and overrule domain- and base-models, we keep this information in the instance-models.
Optimizers are put in place specifically when applying either high-volume sentiment analysis or low-resource (e.g. mobile) sentiment analysis. The entire framework is implemented in the Scala2 programming language. The Akka actor framework3 is a framework written in Scala to allow for distributed computing. We use Akka as platform to make our framework work in a distributed setting. Since Scala is implemented on top of Java, compiling any Scala application will incorporate the Scala library itself as well as other often unused dependencies, resulting in relatively large file sizes when applying it to mobile devices. We use ProGuard4 to keep the file size to it's necessary limit.
Data source management
As shown in Fig. 1, our system contains several kinds of data sources from which we extract information. For data collection, we decouple two different key aspects. For every data source we construct an interface that allows us to communicate with the data source, either through an API (in the case of social media) or through other extraction methodologies such as through plugin (in the case of Outlook) or app (mobile) functionalities. In addition to being able to communicate with the data sources, the nature of each data source requires us to collect data in different manners. Twitter for example, is best suited for streaming data collection whereas Facebook and Hyves only support batched retrieval of data. These differences require us to create a focused information retrieval unit for every data source system.
For social media, we can retrieve information in different ways. We can collect random samples or perform focused queries to find more relevant content. Finding relevant content can typically be done by searching for keywords, user names/ids or geographical bounding boxes. Since the way data should be queried for is application independent, our framework supports all of these query methods, facilitating e.g. ORM using keywords, analysis of personal correspondence (using user names) or demographical segmentation (using geographical bounding boxes).
When we analyze personal correspondence (see also "SentiCorr" and "Mobile SentiCorr" section), we can additionally use Outlook or SMS data. For both these data sources we do not need to query for specific information since a mobile device or Outlook instance is assumed to be connected to a specific individual that we are to analyze data for.
Our core three-step sentiment analysis process is designed to be source-system agnostic. Hence we need a uniform representation of the data we feed into our sentiment analysis process. To achieve this, we place a data abstraction layer over all data sources. In fact, every data source has its own method for abstraction over its data because the representation of the data may differ per source system. Since our sentiment analysis process works on sentence-level, the way we abstract over data is to chunk every information piece into separate sentences. For social media (especially Twitter, limited to 140 characters) and SMS this usually means we require no additional effort. For e-mail however, this means we chunk a single e-mail message into separate sentences and classify sentence-by-sentence instead of the e-mail message as a whole.
OLAP and GUI
Our framework has the ability to forward data to persistent storage. The reason why we do this is two-fold. First, we want to be able to perform OLAP-style analysis on the results of our sentiment analysis. Second, in order to create domain-specific or personal - personal being identical to instance-specific - models, we need to be able to inspect the results and perform feedback into our models. These two separate processes are catered for by our OLAP and GUI functionalities.
Sentiment classification
We consider a three-step approach for designing the automated sentiment analysis. The steps include language identification, part-of-speech tagging and polarity detection, as shown in the Sentiment Analysis module in Fig. 1. To cater for a multilingual approach, we perform language identification using the LIGA [3] algorithm. We use language information as a filter, to remove any messages not written in the language of interest, and as a pre-processing step to be able to apply language-specific models in subsequent steps. For POS-tagging we use the TreeTagger, having publicly available models for different languages [4]. The third and final step is polarity detection for which we use the RBEM algorithm presented in [5]. We provide a detailed description of RBEM and discuss its performance in "Polarity detection with RBEM" section.
This three-step approach is generic in a sense that sentiment analysis can be performed on any data source. But it is also easily extensible, allowing to include specific knowledge of the particular source, e.g. Twitter hashtags.
Polarity detection with RBEM
Results and discussion
We discuss five case studies coming from a real-life application of (ubiquitous) sentiment analysis. With these case studies we demonstrate the strengths of the proposed framework and suitability of the RBEM approach for sentiment analysis. The first case study in "TV shows buzz monitoring" section is about monitoring the discussions of TV shows on social media. It demonstrates the ease of portability of the sentiment analysis related data processing pipeline to a new domain.
The second case study we present ("Emotion tracker" section) is called Emotion Tracker or Emotiepeiler in Dutch, which is an existing showcase website driven by the framework we presented in "Methods" section. With this case study we demonstrate that we successfully reuse the framework as-is for developing a new application. Besides, the modularity of the framework allowed to extend the application with additional functionality without introducing any changes to the core.
The third case study that we present is called SentiCorr ("SentiCorr" section) that concerns sentiment analysis of personal correspondence. It mainly focuses on local application of our framework with an opportunity to tailor the actual models to a specific individual's needs.
The fourth case study ("Mobile SentiCorr" section), similar to SentiCorr but used on mobile devices, that introduces new challenges and opportunities. With this case study we intend to demonstrate the portability of our framework to resource-constrained environments.
We conclude by presenting anvother case study ("Extending RBEM for Emotion classification" section) that illustrated how RBEM can be extended to handle emotion classification based on Plutchik's wheel of emotions [13].
Related Work
Polarity detection
Polarity detection has been studied in different communities and in different application domains. The polarity of adjectives was studied in [6] with the use of different conjunctive words. A comprehensive overview of the performance of different machine leaning approaches on polarity detection were presented in [23–25]. Typically, polarity detection is solved using supervised learning methods but more recently attention is being paid to unsupervised approaches [26].
Some of the recent works suggests the so-called sentic computing for utilizing common sense knowledge in sentiment analysis. A notable example is [27], in which a two-level affective common sense reasoning framework is proposed to mimic the integration of conscious and unconscious reasoning for sentiment analysis using data mining techniques. Recent related work can be found in [28–30].
Other works are those of [7, 31–33]. In these related works, the authors start from bootstrapping methods to label subjective patterns. In their latest work, both subjectivity and polarity detection is performed and evaluated using these patterns along with high precision rules defined in their earlier works.
More recently attention is being paid to sentiment analysis on social media. Sentiment analysis on Twitter is researched by [8, 34] who use similar methodologies to construct corpora and analyze Twitter messages to determine their polarity. O'Connor et al. [35] use opinion mining on Twitter to poll the presidential election of the United States in 2008 and show how using Twitter opinion time series can be used to predict future sentiment.
Related research on polarity detection often focuses on using deep learners, modeling deep linguistic traits. Though such deep learners - for example neural networks or conditional random fields - might be able to capture hidden linguistic traits that are useful for analysis, understanding the logic underlying resulting models is cumbersome. In addition, such learners are resource and time intensive and hence do not fit well with applications where scalability is important.
Platforms for sentiment analysis
To the best of our knowledge, academic work on actual sentiment analysis platforms are scarce. Work on sentic computing20 provides paradigms for sentiment analysis that can be used as reference for building a platform, but this is the only such resource we are aware of.
In contrast to academic platforms, many commercial platforms for sentiment analysis do exist. These platforms typically arise in specific application areas such as webcare and the broader field of online reputation monitoring. Example vendors of such commercial platforms are DataSift, Radian6 and Coosto21. The focus of these platforms is more on specific applications where sentiment analysis is one of the ingredients used to fulfill needs but since it is not a crucial component of the platform, it usually does not receive the attention it should and is treated as a black-box solution.
Application of sentiment analysis
Given that core sentiment analysis methodologies are improving and maturing, much research has been put into the application of sentiment analysis over recent years. Typical recent application areas review prediction of metrics using sentiment analysis on social media.
An example of using sentiment analysis in a predictive application can be found in [36], who studied using sentiment analysis for stock prediction. A commercial approach of using sentiment analysis for stock prediction can be found in SNTMNT22 who use sentiment analysis models and approaches tailored towards the financial market and its jargon.
Another application using sentiment analysis for prediction is found in election forecasting. In both [37, 38], the authors studied if and how sentiment analysis results can be used to predict outcomes of elections. They found that generally such predictions are competitive with panel-based predictions but typically are ahead by days.
More traditionally, sentiment analysis has been heavily studied on reviews, especially movie reviews given that benchmark and evaluation resources in this domain are relatively easy to obtain. Example works on applying sentiment analysis to movie reviews include [39–41].
Though many applications of sentiment analysis have been studied, related work typically focuses on providing a methodology to only one or two specific application areas at once, not focusing on generic application of the proposed method. Little work is done on generically applicable and flexible sentiment analysis platforms that port well to any given application area.
Conclusions
Previous academic work in the area of sentiment analysis traditionally focused on benchmarking performance of sentiment classification techniques, typically for restricted application settings, e.g. assuming that all messages are written in one language only, usually English as the resources for English are best available and assuming that labeled data can be collected for the domain of interest in sufficient volumes. Such restrictions limit the direct utility of the developed sentiment analysis techniques.
In this paper we introduced a generic framework for ubiquitous sentiment analysis. We presented five different case studies that show its utility. They are witnesses of the ease with which we can develop solutions based on our generic framework for scenarios of different nature.
In this paper the main focus was on the data processing pipeline facilitating ubiquitous sentiment analysis.
In our ongoing work we elaborate on aspects of user interaction with the results of the sentiment analysis. One of the interesting approaches is to enrich and revise the patterns used by RBEM. Another and related important aspect is automated monitoring and continuous improvement of the polarity detection performance. By users we mean not only marketers or sentiment analysts. If the sentiment analysis is used for personal use (rather than for marketing needs) as discussed in the SentiCorr and Mobile SentiCorr use cases, we can expect that lot of input for RBEM will come through a simple relevance feedback mechanism.
Endnotes
1As the field is still emerging it is hard to find a white paper summarizing objectively the current state-of-the-art in industry. However, our opinion seems to be shared among the leading industry experts in sentiment analysis, see e.g. http: //www.socialmediaexplorer.com/social-media-monitoring/sentiment-analysis/
2See http://www.scala-lang.org/ for more information
3See http://www.akka.io/ for more information
4See http://proguard.sourceforge.net/ for more information
5Note that patterns can consist of any combination of words and POS-tags.
6For the Dutch dataset, the agreement amongst all three annotators is a mere 55 %. The agreement between two out of three annotators varies from 65 % up to 71 %. The agreement on the English dataset is 72.1 %.
7Accessible at http://www.win.tue.nl/~mpechen/projects/smm/\#Datasets
8We used the Java version mentioned on http://www.socher.org/index.php/Main/ Semi-SupervisedRecursiveAutoencodersForPredictingSentimentDistributions
9The Rotten Tomatoes dataset only contains positive and negative instances. To remedy for this, whenever RBEM labeled a message as neutral, we assigned it negative class as the most misclassified class. Note also that the consistency of the labels in this benchmark has not been studied, and the disagreement of human annotators can be very high.
10Soap Goede tijden, slechte tijden, Talent shows De beste zangers van Nederland, Real-life show Hotter than my daughter, Game show Ik hou van Holland, other shorter names are provided in Table 4.
11We intentionally focus on demonstrating domain portability rather than multilingual or source-agnostic aspects; hence the homogeneity of our input data with respect to these two aspects.
12 Ik hou van Holland
13The application is publicly available at http://www.emotiepeiler.nl/
14KPN is a Dutch telecom company
15Tagalog is one of the main languages spoken in the Philippines
16Since we are dealing with personal correspondence, a locally installed GUI is a necessity to reserve privacy
17 implementation available at https://github.com/sancha/jrae
18 http://lrc.cornell.edu/swedish/dataset/affectdata/
19 http://www.win.tue.nl/~mpechen/projects/smm/
20 For references and publicly available information on this paradigm, we refer to http://www.sentic.net
21 See http://datasift.com, http://salesforcemarketingcloud.com, http://coosto.nl
22 See http://www.sntmnt.com/
Declarations
Acknowledgements
The authors acknowledge the work of Lorraine Chambers in engineering the "mobile SentiCorr" system.
Availability of data and materials
There is a patent protecting a major part of the software, and thus cannot be made available online. Datasets used in the paper are diverse and collected over a number of years. Some of the datasets will be made available in the near future, to allow reproducibility of the results.
Authors' contributions
ET is the co-designer and software developer of the SentiCorr system, MP is the co-designer of the SentiCorr system, and the academic advisor for ET, MMG is the co-designer of the mobile SentiCorr system. All the three authors have contributed to the write-up of this paper. All authors read and approved the final manuscript.
Competing interests
The authors declare that they have no competing interests.
Consent for publication
Not applicable.
Ethics approval and consent to participate
Not applicable.
Open Access This article is distributed under the terms of the Creative Commons Attribution 4.0 International License (http://creativecommons.org/licenses/by/4.0/), which permits unrestricted use, distribution, and reproduction in any medium, provided you give appropriate credit to the original author(s) and the source, provide a link to the Creative Commons license, and indicate if changes were made. The Creative Commons Public Domain Dedication waiver (http://creativecommons.org/publicdomain/zero/1.0/) applies to the data made available in this article, unless otherwise stated.
Authors' Affiliations
(1)
Department Computer Science, TU Eindhoven, Eindhoven, The Netherlands
(2)
School of Computing and Digital Technology, Birmingham City University, Birmingham, UK
References
Ravi K, Ravi V. A survey on opinion mining and sentiment analysis: tasks, approaches and applications. Knowl-Based Syst. 2015; 89:14–46.View ArticleGoogle Scholar
Gaber MM, Cocea M, Wiratunga N, Goker A, Vol. 602. Advances in Social Media Analysis: Springer; 2015.Google Scholar
Tromp E, Pechenizkiy M. Graph-based n-gram language identification on short texts. In: Proceedings of the 20th Machine Learning Conference of Belgium and The Netherlands: 2011. p. 27–34.Google Scholar
Schmid H. Probabilistic part-of-speech tagging using decision trees. In: International Conference on New Methods in Language Processing: 1994.Google Scholar
Tromp E, Pechenizkiy M. Rbem: A rule based approach to polarity detection. In: Proceedings of the Workshop on Issues of Sentiment Discovery and Opinion Mining (WISDOM@KDD2013). ACM: 2013.Google Scholar
Hatzivassiloglou V, McKeown K. Predicting the semantic orientation of adjectives. In: Proceedings of the ACL: 1997. p. 174–81.Google Scholar
Wilson T, Wiebe J, Hoffmann P. Recognizing contextual polarity in phrase-level sentiment analysis. In: HLT '05: Proceedings of the Conference on Human Language Technology and Empirical Methods in Natural Language Processing: 2005. p. 347–54.Google Scholar
Go A, Huang L, Bhayani R. Twitter Sentiment Analysis using Distant Supervision: Tech Rep. Stanford University.Google Scholar
Read J. Using emoticons to reduce dependency in machine learning techniques for sentiment classification. In: ACLstudent'05 Proceedings of the ACL Student Research Workshop: 2005. p. 43–8.Google Scholar
Socher R, Pennington J, Huang EH, Ng AY, Manning CD. Semi-Supervised Recursive Autoencoders for Predicting Sentiment Distributions. In: Proceedings of the 2011 Conference on Empirical Methods in Natural Language Processing (EMNLP): 2011.Google Scholar
Socher R, Perelygin A, Wu J, Chuang J, Manning CD, Ng AY, Potts C. Recursive deep models for semantic compositionality over a sentiment treebank. In: Proceedings of the Conference on Empirical Methods in Natural Language Processing. Stroudsburg: Association for Computational Linguistics: 2013.Google Scholar
Pang B, Lee L. Seeing stars: Exploiting class relationships for sentiment categorization with respect to rating scales. In: Proceedings of the ACL: 2005.Google Scholar
Plutchik R. A general psychoevolutionary theory of emotion. New York: Academic press; 1980, pp. 3–33.View ArticleGoogle Scholar
Bespalov D, Qi Y, Bai B, Shokoufandeh A. Sentiment classification with supervised sequence encoder. In: Proceedings of European Conference on Machine Learning and Principles and Practice of Knowledge Discovery in Databases (ECML-PKDD), vol. LNCS 7523. Springer: 2012. p. 159–74.Google Scholar
Glorot X, Bordes A, Bengio Y. Domain adaptation for large-scale sentiment classification: A deep learning approach. In: Proceedings of the 28th International Conference on Machine Learning, ICML 2011: 2011. p. 513–20.Google Scholar
Tromp E, Pechenizkiy M. Senticorr: Multilingual sentiment analysis of personal correspondence. In: Proceedings of IEEE ICDM 2011 Workshops. IEEE: 2011. p. 470–9, doi:10.1109/ICDMW.2011.152.
Bakker J, Holenderski L, Kocielnik R, Pechenizkiy M, Sidorova N. Stess@work: From measuring stress to its understanding, prediction and handling with personalized coaching. In: Proceedings of ACM SIGHIT International Health Informatics Symposium (IHI 2012). ACM Press: 2012. p. 673–8, doi:10.1145/2110363.2110439.
Bakker J, Pechenizkiy M, Sidorova N. What's your current stress level? detection of stress patterns from gsr sensor data. In: Proceedings of ICDM Workshops. 2nd HACDAIS Workshop @ ICDM 2011 (HACDAIS 2011): 2011. p. 573–80, doi:10.1109/ICDMW.2011.178.
Tromp E, Pechenizkiy M. Rule-based emotion detection on social media: Putting tweets on plutchik's wheel. CoRR. 2014. abs/1412.4682.Google Scholar
Yu H, Ho C, Juan Y, Lin C. LibShortText: A Library for Short-text Classification and Analysis. 2013. http://www.csie.ntu.edu.tw/~cjlin/libshorttext/.
Socher R, Pennington J, Huang EH, Ng AY, Manning CD. Semi-supervised recursive autoencoders for predicting sentiment distributions. In: Proceedings of the Conference on Empirical Methods in Natural Language Processing (EMNLP'11). Stroudsburg: Association for Computational Linguistics: 2011. p. 151–61. http://dl.acm.org/citation.cfm?id=2145432.2145450.Google Scholar
Alm ECO. Affect in Text and Speech, PhD thesis. 2008.Google Scholar
Pang B, Lee L, Vaithyanathan S. Thumbs up? sentiment classification using machine learning techniques. In: Proceedings of Conference on Empirical Methods in Natural Language Processing (EMNLP'02). Association for Computational Linguistics: 2002. p. 79–86.Google Scholar
Pang B, Lee L. A sentimental education: Sentiment analysis using subjectivity summarization based on minimum cuts. In: Proceedings of the ACL: 2004. p. 271–8.Google Scholar
Pang B, Lee L. Opinion mining and sentiment analysis. In: Foundations and Trends in Information Retrieval: 2008.Google Scholar
Paltoglou G, Thelwall M. Twitter, myspace, digg: Unsupervised sentiment analysis in social media, vol. 3. New York: ACM: 2012. p. 66–19, doi:10.1145/2337542.2337551.
Cambria E, Olsher D, Kwok K. Sentic activation: A two-level affective common sense reasoning framework. In: Proceedings of AAAI: 2012. p. 186–92.Google Scholar
Cambria E, Song Y, Wang H, Howard N. Semantic multi-dimensional scaling for open-domain sentiment analysis. Intell Syst IEEE. 2013; (99):44–51. doi:10.1109/MIS.2012.118.Google Scholar
Cambria E, White B, Durrani T, Howard N. Computational intelligence for natural language processing. IEEE Comput Intell Mag. 2014; 9(1):19–63.View ArticleGoogle Scholar
Poria S, Cambria E, Winterstein G, Huang GB. Sentic patterns: Dependency-based rules for concept-level sentiment analysis. Knowl-Based Syst. 2014; 69:45–63.View ArticleGoogle Scholar
Riloff E, Wiebe J, Wilson T. Learning subjective nouns using extraction pattern bootstrapping. In: Proceedings of the 7th Conference on Natural Language Learning: 2003. p. 25–32.Google Scholar
Wiebe J, Wilson T, Cardie C. Annotating expressions of opinions and emotions in language. language resources and evaluation. In: Language Resources and Evaluation (formerly Computers and the Humanities). Association for Computational Linguistics: 2005. p. 347–54, doi:http://dx.doi.org/10.3115/1220575.1220619, http://dx.doi.org/10.3115/1220575.1220619.
Wiebe J, Micalcea R. Word sense and subjectivity. In: Proceedings of ACL'06: 2006. p. 1065–72.Google Scholar
Pak A, Paroubek P. Twitter as a corpus for sentiment analysis and opinion mining. In: Proceedings of the Seventh Conference on International Language Resources and Evaluation (LREC'10): 2010. p. 1320–1326.Google Scholar
O'Connor B, Balasubramanyan R, Routledge BR, Smith NA. From tweets to polls: Linking text sentiment to public opinion time series. In: Proceedings of the International AAAI Conference on Weblogs and Social Media: 2010. p. 122–9.Google Scholar
Bollen J, Mao H, Zeng XJ. Twitter mood predicts the stock market. CoRR. 2010. abs/1010.3003.Google Scholar
Tumasjan A, Sprenger TO, Sandner PG, Welpe IM. Predicting elections with twitter: What 140 characters reveal about political sentiment. In: Proceedings of the Fourth International AAAI Conference on Weblogs and Social Media. p. 178–85.Google Scholar
Balasubramanyan R, Routledge BR, Smith NA. From Tweets to Polls : Linking Text Sentiment to Public Opinion Time Series. 2010.Google Scholar
Turney PD. Thumbs up or thumbs down?: semantic orientation applied to unsupervised classification of reviews. In: Proceedings of the 40th Annual Meeting on Association for Computational Linguistics. ACL '02. Stroudsburg: Association for Computational Linguistics: 2002. p. 417–24, doi:10.3115/1073083.1073153, http://dx.doi.org/10.3115/1073083.1073153
Kennedy A, Inkpen D. Sentiment classification of movie reviews using contextual valence shifters. Comput Intell. 2006; 22:2006.View ArticleMathSciNetGoogle Scholar
Zhuang L, Jing F, Zhu XY. Movie review mining and summarization. In: Proceedings of the 15th ACM International Conference on Information and Knowledge Management. CIKM '06. New York: ACM: 2006. p. 43–50, doi:10.1145/1183614.1183625, http://doi.acm.org/10.1145/1183614.1183625.