A comprehensive model for management and validation of federal big data analytical systems
Big Data Analytics
2017
2:2
Received: 3 May 2016
Accepted: 21 October 2016
Published: 10 January 2017
Abstract
Background
In this era of data science, many software vendors are rushing towards providing better solutions for data management, analytics, validation and security. The government, being one of the most important customers, is riding the wave of data and business intelligence. However, federal agencies have certain requirements and bureaucracies for data-related processes, certain rules and specific regulations that would entail special models for building and managing data analytical systems. In this paper, and based on work done at the US government, a model for data management and validation is introduced: Federal Model for Data Management and Validation (FedDMV). FedDMV is 4-step model that has a set of best practices, databases, software tools and analytics. Automated procedures are used to develop the system and maintain it, and association rules are used for improving its quality.
Results
After working with multiple engineers and analysts at the federal agency, there is a general consent that FedDMV is easy to follow (please refer to the experimental survey). However, to quantify that satisfaction, three experimental studies were performed. One is a comparison to other state-of-the-art development models at the government, the second one is a survey that was collected at the government to quantify the level of satisfaction regarding FedDMV and its tool; and finally, a data validation study was performed through detailed testing of the federal system (using an Association Rules algorithm).
Conclusions
To develop a safe and sound federal data analytical system, a tested and rigorous model is required. There is a lack of government-specific models in industry and research. FedDMV aims to provide solutions and guided steps to facilitate the development of data analytics systems given the governmental constraints. FedDMV deals with unstructured data that streams from multiple sources, automates steps that are usually manual, validates the data and maximizes its security. The results of the experimental work are recorded and reported in this manuscript.
Keywords
Data managementBig data analyticsValidationUnstructured dataFederal agency
Background
The promise of intelligent and accurate predictions in software systems that was previously pursued by many [1, 2] is now being transformed into a new testament of big data analytics. Undoubtedly, data analytics is a buzz word, if not the "buzziest" word of the day [3–6]; it is a science that lies in the nexus of Statistics and Artificial Intelligence (AI). The goal of data analytics is to return an intelligent and more focused version of large and impersonal datasets, provide quick insights into data, and help with visualization and decision making. Literature has many examples of successful applications of data analytics, not only to specific business-driven functions, but also many industrial and research domains such as Healthcare [3], Education [4], Banking & Finance [5], and many others. The Government is no different. Actually, most federal agencies understand that data can help them unlock the government of the future towards better operations, better citizen service, and more efficient decision making.
Data engineering at the US government
In 2012, the Big Data Initiative [
7
] (refer to the screenshot shown in Fig.
1
below) was created; that was driven by an earlier Open Government initiative signed in 2009 [
8
–
10
]. These two initiatives aimed to create data openness and ensure machine-readable data at all federal agencies. Accordingly, multiple agencies started sharing their data through outlets such as
www.data.gov
. The Open Data Initiative announcement's was reinforced in 2013 as an executive order.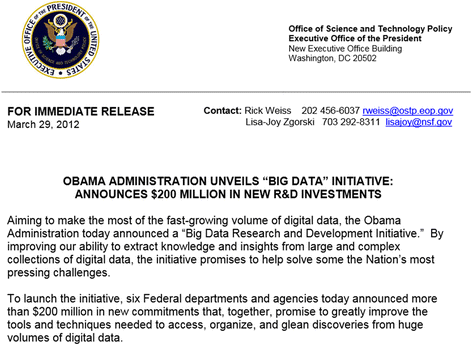 The two initiatives created a new reality within federal agencies: an instant need to implement a data system that would allow for managing, browsing, mining, and sharing their data. In this manuscript, a data system is defined as:
1.

2.

Tools that manage the databases

3.

A set of validation, security and safety procedures

4.

The outcomes of the data system such as dashboards and visualizations.
Based on this novel direction, federal agencies are racing to implement data analytical systems, this paper aims to guide these agencies through the process – using the proposed federal-specific model. Although the private sector is known to be the main driver of technological advancements, the increasing trend of software engineering in the government is undeniable [
11
], and is driving the change as well. Previously, software development at the government had followed the generic waterfall model [
12
], where everything is sequential. That incurred massive costs and time delays. Based on an article by the Washington Post [
13
], a monetary value of up to $50 million was wasted on failing federal software projects (in one year). Many governmental agencies (such as: the Financial Industry Regulatory Authority and the Department of Health and Human Services, and many others) still latch onto the expensive and difficult to manage waterfall model (the Affordable Care Act website
www.healthcare.gov
is a recent example [
14
]). Overall, federal agencies spend around $77 billion dollars on software and IT every year [
15
]. Based on that, the United States Government Accountability Office (GAO) published an important report [
15
] making the case for the need to switch government software engineering practices to agile [
16
]. More importantly, the GAO report identified 14 challenges that governmental agencies undergo. Showed in (Table
1
) below, the challenges are specific to governmental workflows; most challenges are associated with Collaboration, Teamwork, and old fashioned federal practices. This fast movement towards agile software development and data analytics is the major motivation for our work.
Table 1
GAO's Fourteen Agile Federal Challenges
Table: Federal Challenges

Teams had difficulty collaborating closely.

Procurement practices my not support Agile projects.

Teams had difficulty transitioning to self-directed work

Customer did not trust iterative solutions.

Staff had difficulty committing to more timely and frequent input.

Teams had difficulty managing iterative requirements.

Agencies had trouble committing staff.

Compliance reviews were difficult to execute within an iteration time frame.

Timely adoption of new tools was difficult.

Federal reporting practices do not align with Agile.

Technical environments were difficult to establish and maintain.

Traditional artifact reviews do not align with Agile.

Agile guidance was not clear

Traditional status tracking does not align with Agile.
In a thesis/study published at Princeton University, data structuring was identified as one of the major challenges at federal agencies [17, 18]: "When government does collect and publish data in a reusable way, government enables third-party stakeholders like advocates, academics, journalists and others to powerfully adapt its data in any way they see fit using the latest technologies, and to add value in unexpected ways. Third parties can use government data to experiment in parallel, in order to discover what innovations work best in changing technological environments". To engineer better data systems however, it is important to first understand the nature of data available in the government; the next section discusses existing and previous federal experiences in this realm.
This paper is structured as follows: the next sub-section looks into what has been already done in the government in terms of software engineering and big data analytics. The section after discusses related work and current federal challenges. Afterwards, the main contribution of this paper, the Federal Data Management and Validation Model (FedDMV) is presented. Subsequently, two experimental studies and survey (on the usability of the tool) are introduced; and the last section concludes the paper with results and future work.
Unstructured data at the US government
To address a legislative issue, for decision making, and for media announcements, most federal agencies require data that streams from other federal departments; or in some cases even city, county or state governments. Some of that data is shared with the public.
Besides, the aforementioned www.data.gov, the PACER system (public courts online access system) [17], the BLS (Bureau of Labor Statistics), and NASS (National Agricultural Statistics Service) [19] are major examples of federal data system that adopted the open data initiative and made their data public to citizens. States and cities started publishing data to the public as well. For example, the cities of Chicago [20] and San Francisco [21] both have open data portals, data.sfgov.org and data.cityofchicago.org respectively. However, different parties share and store the data in different formats, varying standards, and using different technologies. How is federal data used collectively then? How is it shared across agencies and governments?
Due to the size, unstructured and non-repetitive nature of federal data, Hadoop could be very helpful; Swish Data (among others such as Map Reduce and Horton Works) [
22
–
24
] published an article identifying multiple use cases for the government using Hadoop. Besides the ability to organize enormous amounts of size of data, Hadoop also handles unstructured data (which is a major characteristic of federal data). The government is indeed focused on using commercial data management tools such as: Microsoft's SQL servers [
25
], SAS [
26
], and Tableau [
27
] (among others). Nonetheless, and regardless of the tool of choice, following a controlled data management model reduces the risk of building faulty data systems; it also ensures the ability to learn from other experiences and not repeat the mistakes of the past [
28
] (among many other advantages). It is apparent that big data is key for the US government (Table
1
and Fig.
2
illustrate use cases that show why big data is an inevitable reality at the government), however, what tools is the government using to manage its data? Besides rational databases, SQL, Oracle tools and the traditional Database Management Systems (DBMS), is the government using the
de-facto
of big data – Hadoop? Do they have specific tools that can manage and adhere to federal rules? No strong evidence of that is reported.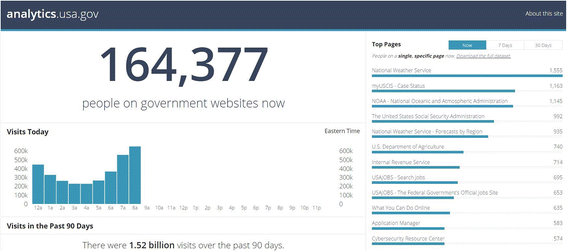 Related work: data management models
Lifecycles in software engineering have lead major shifts in the tech progress of the engineering world. The transition from Waterfall development to Spiral [12], from Traditional to Agile [16] and from product-based to contextual user-based [29, 30] development left an obvious fingerprint on the world of engineering. Do these models apply to developing a data analytics system? Although considered a fairly novel field, this section introduces the most prominent models for data analytical systems and how they are utilized.
Data analytics development for non-federal systems
Before federal got on the analytical wave, many industries (such as: healthcare, finance, athletics, and the media) adopted analytical models within their organizations. Although data mining research has been of interest to many researchers around the world, data analytics didn't see much light until it was adopted by the industry. Many software vendors (SAS, SPSS, Tableau, MSTR, Qlik, and Pentaho) shifted the focus of their software development to include a form of data analytics, big data, data mining, statistical modeling and data visualization. Based on multiple long and challenging deployments in many fields, trials and errors, and multiple consulting exchanges with many customers from many fields, these vendors coined a data management model for data analytics. SAS (based on Gartner's research [
31
] is one of the pioneer vendors in this field), provided that model (illustrated in Fig.
3
). The model includes the following steps: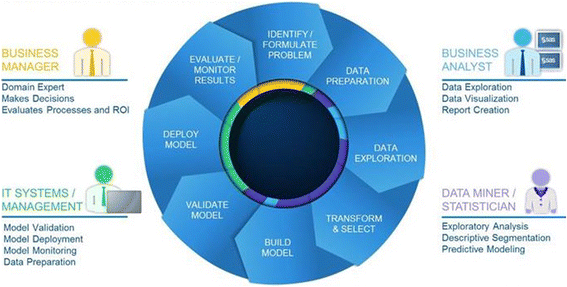 a.

Identify and formulate the problem

b.

Prepare the data (pivoting and data cleansing)

c.

Data exploration (summary statistics, bar charts and other means of exploration)

d.

Data transformation and selection (select ranges, and subsets)

e.

Statistical model development,

f.

Validation and deployment

g.

Evaluate and monitor results of model with data

h.

Deliver and refine the model.
When software vendors like Tableau, SAS, SPSS and others realized that the government is highly interested in data analytics as well, they started to propose different models to the government to win its projects. Next section discusses some of these proposed models, and later sections of the paper introduce our new model: The Federal Data Management and Validation Model (FedDMV), and contrast it with an existing relevant model.
Federal data management, validation and analytics
As it is already established, federal departments and agencies are very good with generating and collecting data, but not as good in storing and sharing it. Government IT however, is being constantly challenged to make this data available to employees, the media, the public and other agencies. To address such challenges, multiple software vendors produced federal-specific solutions. Actuate [32] for example introduced BIRT (a data driven model). It is one of the most used models in government. It has been used by more than million users and features an active community, as Actuate claims [32]. The BIRT process matches most federal regulations and certifications. BIRT provides a list of reports and dashboards that agencies can plug into their data; it has dashboards that deal with federal data sharing, data fraud detection, performance management, and citizen self-service. Actuate deploys BIRT to support federal data operations at the Department of Defense, Federal Aviation Administration, US Equal Employment Opportunity Commission, and others. BIRT however, just like most "commercial solutions" is not a solution that is easy to manage without the support of Actuate, and it implies high dependence on the vendor. It has the advantage of providing dashboards, and quick-ready solutions, but the dependency limits the federal agencies and departments from having their own controlled data infrastructure. Another major player in the federal data area is Salient [33]. Salient calls their solution the Federal Mission Software Solution (FMSS). FMSS is based on agile development, it provides electronic workflows for data such as: electronic federal signatures, electronic disbursement of funds through the US treasury, electronic payment collection from citizens through www.pay.gov, and infrastructure management (among other workflows). Although some Salient solutions are deployed at the US Air Force, the US Army, Department of Commerce, and many others [33], Salient doesn't provide a comprehensive workflow to federal agencies that can be followed to build a data system, rather, the models by Salient are tailored to solve specific problems. The corresponding quasi-solutions to those problems are assembled, and accordingly Salient claims that the company provides a comprehensive federal solution for data analytics. Neither BIRT nor FMSS are fully sufficient to a federal agency or department to cover many data management requirements there.
Information builders on the other hand is a tool that provides a federal solution called WebFOCUSRStat [
34
]. RStat provides federal agencies with R-based advanced analytics to help with proactive decision making. Although multiple vendors provide advanced analytics through their solutions, RStat is specifically designed to federal agencies analytical needs. RStat focuses on the following fields for advanced analytics: Social Security, Tax Collection, Customs, Medicare/Medicaid, and Armed Forces. An example of a dashboard that federal users can interact with is presented in Fig.
4
below. RStat lacks descriptive and general types of analysis. It also lacks a sufficient process for data management that could be easily implemented by government workers.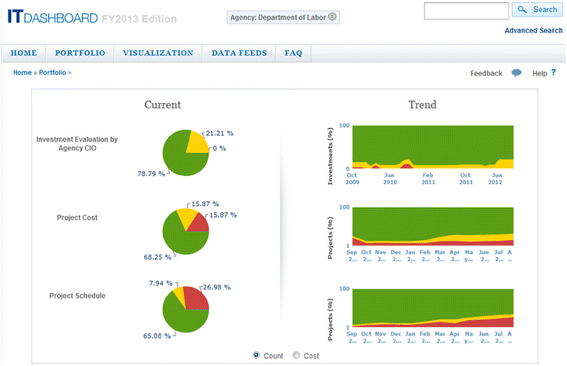 Other major players in the data analytics field for government are Deloitte, Accenture, SAS, Tableau and many others. Many of these vendors would be more than keen to get into the business of building solutions to the government, however, that means that they will be in control of maintaining, updating, and improving such systems, something that the government might not be able to afford. Due to a recent study by the Association of Government Accountants (AGA) [
35
], the government hasn't fully adapted data analytical infrastructures due to 3 major reasons: 1. A lack of budget resources (67%): getting any of the previously mentioned solutions or using any of the vendor-specific models exacerbates this problem. These vendor solutions are relatively expensive. 2. A lack of appropriate staff (53%) 3. Uncertainty as to how to develop a data analytics system (33%): deploying off the shelf solutions shall influence the agency in a negative way in terms of uncertainty [
35
]. Therefore, building an in-house solution creates less ambiguity and more clarity into the future of the data system at the agency. The AGA interviewed multiple representatives from multiple Federal agencies, they categorized the agencies into 3 categories based on desire, understanding and deployment of data analytical systems: High (23% of agencies), Medium (68%) and Low level (9%). Examples of the agencies and departments interviewed and are interested in a data management model for big data analytical systems:1. US Department of Agriculture, Food and Nutrition Service (FNS): Deployed a data system called ALERT: a system for fraud detection.2. US Postal Service: Deployed a system called RADR: a system that aids in selection of areas for investigation and audit.3. Centers for Medicare and Medicaid Services: Deployed a system to identify and prevent waste, fraud and abuse in the Medicare fee-for-service program. Many other departments and agencies deployed data analytical systems, more are found under [
35
] and Fig.
5
below.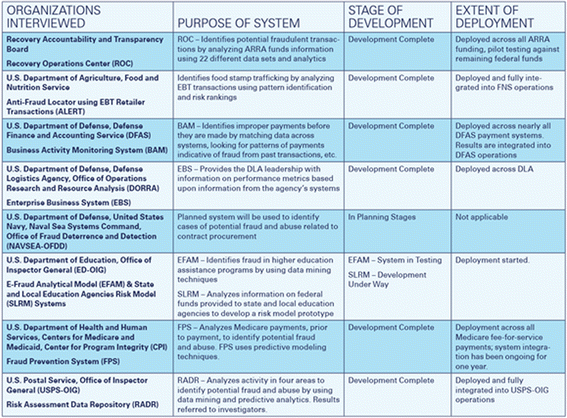 Therefore, there is a gap in literature for an in-house federal driven models that guide the implementation of a data system. Additionally, there is a lack of validation and data sharing techniques at the federal government.
That model needs to accommodate the following characteristics:
1.

A model that facilitates data streaming between agencies.

2.

A model that validates the data, maximizes its security and provides a standardization mechanism.

3.

A model that is built in-house and without dependency on commercial products

4.

A model that can handle big amounts of data
Based on what have been discussed in previous sections, and due to the immediate need for a management model that has the aforementioned four characteristics, this paper introduces: The Federal Data Management and Validation Model (FedDMV) to address all the challenges and fill the existing void. FedDMV has been used and experimented with at a federal agency. It is introduced in the next section.
FedDMV experimental studies
This section introduces the main three experimental works of this paper, the first is through comparing a big data analytics system built using FedDMV to another built through traditional relational database; the second by surveying feedback on FedDMV's tool from federal employees and analysts. The third is a test of ART, FedDMV's validation method. The subsections present pros and cons of the two compared processes, outcomes of the comparison, results of the survey, ART and the lessons learnt.
Setup for the experiments
FedDMV was deployed to develop a data system at a US federal agency. The steps presented in the previous section are applied to a new data system development process. This section compares FedDMV to the
traditional
process that most federal agencies are currently using. A big data system was built using FedDMV, and another one (with similar size) was built through Traditional Relational Database approaches (that is referred to as TRDb here). The two process's steps are presented in Table
2
. The federal agency's identity and information are not presented in this paper due to government data restrictions, however, the project that is managed by George Mason University is funded by the United States Department of Agriculture (USDA). For further details, please consult with the authors.
Table 2
FedDMV Steps vs. TRDb steps
| Process/Step | FedDMV | TRDb |
| --- | --- | --- |
| Standards Creation | Standards are created based on the data streams and the data sources. All standards are saved in a knowledge base. | Lookups created based on informal conversations with federal employees |
| Data Management | Automated data management using a software tool. | Manual migrations (Excel and SSIS) |
| Data Validation | Using an automated Association Rules Driven approach to validate the data extensively. | Manual data validation and verifications practices |
| FedDMV Tool Development and Testing | A tool that gives federal employees access to the system through a GUI. | No such tool available |
| Data Security and Federal Restrictions Deployment | Well documented security and privacy routines. | Routines created as required |
Data was collected to run the experiment a total of 633 rows was assembled. The system under test has 11 modules, with an average of 58 functions. Due to proprietary reasons, the nature and details of the system can't be exposed.
The FedDMV process was performed to build a federal data system at USDA, at each stage, certain decisions were taken. The code shown in Fig.
9
creates a cursor that goes through all data and migrates it to tables in a destination database. Such procedures could be processed using SQL engines. The federal employees require friendly graphical user interfaces to be able to interact with the data. That includes the ability to upload, update, delete, and retrieve data from the FedDMV system. A tool is part of the process for data management. Developing a tool goes through all the steps of software development, coding, testing, and deployment. An example screenshot of the tool is shown in Fig.
10
(the tool provides a GUI for analysts to interact, stream and validate the data).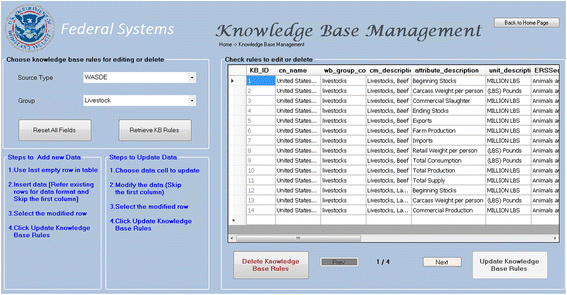 As for ART, a sample data that is used as part of the experiments is shown in Fig.
11
(after sorting rows by confidence). The figure shows the errors that previously occurred in Column A, the Antecedents in Column B, the Consequents in Column C (which what the engineer look for at each stage). The figure also shows Confidence, Lift and the Support in columns D, E, and F. This data was collected and generated using ART throughout the development and testing process. The results of the three experiments are presented next.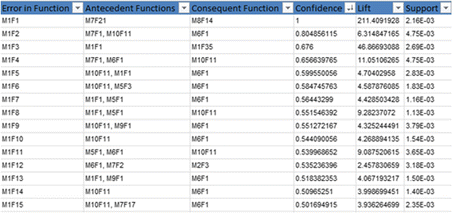 Experimental results and conclusions
This section presents the experimental results of the three studies, pros and cons of FedDMV and TRDb, conclusions and future work.
Results
Time consumption and lessons learnt were collected from both processes, time consumption for FedDMV is significantly less than that of TRDb (45 vs. 81 months). Results for FedDMV are shown in Table
3
below, results for TRDb are in Table
4
. Furthermore, advantages of FedDMV and disadvantages of TRDb are in Table
5
.
Table 3
FedDMV Time Consumption
| Process/Step | FedDMV |
| --- | --- |
| Standards Creation | 2 months |
| Data Management | 5 months |
| Data Validation (ART) | 7 month |
| FedDMV Tool Development and Testing | 22 months |
| Data Security and Federal Restrictions Deployment | 9 months |
| Total Time | 45 months |
Table 4
TRDb Time Consumption
| Process/Step | TRDb |
| --- | --- |
| Requirements Gathering and Variables' Understanding | 8 months |
| Database Design | 7 months |
| Building Database Tables | 10 month |
| Data Migration and Management | 32 months |
| Business Rules Development | 18 months |
| Giving Federal Employees Access to Data System | 6 months |
| Total Time | 81 months |
Table 5
FedDMV vs. TRDb (Pros and Cons)
| FedDMV | TRDb |
| --- | --- |
| Easy data management of centralized DB. | No "single version of the truth". |
| Better data validation practices that are driven by intelligent methods (association rules). | Manual validation. |
| No more manual manipulations with data and tables, the analysts use the FedDMV tool (leads to higher security). | updates and maintenance difficulties. |
| Resilient data integration and standardization routines. | Data not comprehensively structured in tables. Difficult publishing and sharing. |
| Less manual work by engineers and federal employees. Automated data streaming routines available. | Data overlap/redundancy between different databases – results in many inconsistencies. No automated data streaming routines. |
| Easier sharing and publishing. Role-based data security. | Uses hand entered data that increases the risk of errors. Data security constantly compromised. |
| Access to advanced analytical capabilities. | TRDb lacks tools that allow access to analytics. |
For data management models, it is very important to include the end-users and collect their feedback. Therefore, we presented the FedDMV system to 350 governmental employees and analysts and collected their feedback on FedDMV's usability. The feedback was mostly positive. Feedback was categorized into the following five groups: FedDMV's tool is user friendly, FedDMV is an inevitable change (willing to accept it), FedDMV is easy to follow, haven't used the tool, dislike FedDMV and its tool. See results illustrated in Fig.
12
. We noticed that new federal hires are usually early adopters of such data technologies, and are excited to see government systems move in the right direction and adopt new technologies. Nonetheless, many employees whom been with a federal agency for 15 years or more are very strict in terms of resisting change and refusing to change their 'old' ways.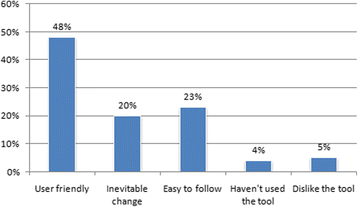 For example, 9% of the analysts gave us negative feedback that us relevant to the notion that they don't see the need to move away from more manual processes. However, 71% gave great or good feedback, and 20% thought that this change is necessary and eventually inevitable.
The results of the tool usability survey are considered to be very good in terms of use acceptance. FedDMV is being used at multiple federal agencies now, which is considered another proof of the success of the model and its tools.
As for ART, the results were collected after performing 11 iterations of streaming and testing. The results of the experiment are as follows: the riskiest module across all iterations is M6F1 (more than 150 occurrences); Refer to Fig.
13
. This module is expected to have the highest number of errors. However, the module that the model has highest confidence that it will have errors is M8F14 (the only module with a confidence of 1). Refer to Fig.
14
. As it is evident from the experimental results, many functions that are directly affected by errors in the data system are the first function in the module. As Fig.
13
suggests, M6F1, M3F1, M5F1 and M7F1 are modules with evident high risk. The AR model's average confidence of the data system is 0.55011; therefore, most recommendations in this model are dependable as testing candidates. The data system module used for the experiment was released on time, and on budget and is currently in use by federal team. We aim to provide more experiments to ART in the future. Conclusions and future work are presented next.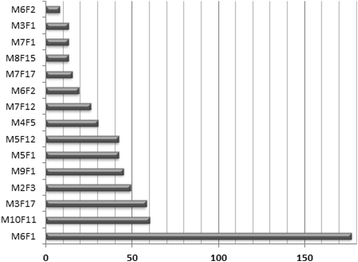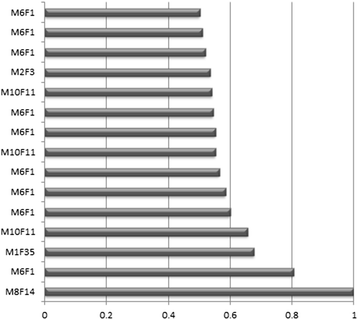 Discussion and Conclusion
The 4-step model in this paper aims to guide the deployment process of a federal big data analytical system. For any data model, the following four factors are used to evaluate its efficiency and effectiveness:
1

Resource consumption rates: is the process expensive? How many hours? Manpower?

2

Complexity: how difficult is the model to follow?

3

Practicality: is the model merely theoretical or is it a good fit for real world projects?

4

Validity: ensuring that the data and the processes are valid
In the experimental study of this paper, FedDMV is compared with TRDb, a traditional process for building data systems. To assess the four points: in terms of resource consumption, FedDMV presented a significant improvement over traditional federal processes (45 months vs. 81 months), and was successful in delivering a big data system at a federal agency in a timely manner. In terms of complexity and practicality, FedDMV has 4 clear steps, and after working with multiple engineers at the federal agency, there is a general consent that FedDMV is easy to follow (the tool survey shows that as well). As for validity, FedDMV focuses of validation through ART.
Future work of our research includes the following:
1.

Perform more experiments for ART and general quality assurance of data systems.

2.

Deploy big data systems with other federal agencies. That will put FedDMV to test with different types of data, and different types of processes.

3.

Deploy FedDMV with smaller types of systems and evaluate its feasibility with that.

4.

Compare FedDMV to more data analytics models, in terms of time consumption, usability and applicability - such as PACER and BIRT.

5.

Provide more software tools for managing the FedDMV process, and aid in project planning, tracking resources, and monitoring the 4 steps of the process.
FedDMV focuses on major federal big data aspects such as validation, streaming, security, and automation. In this age of big data, FedDMV is introduced as an effective and efficient 4-step model to follow, and is a very strong candidate for federal agencies that aim to develop new data systems.
Abbreviations
ACA:

Affordable Care Act
AGA:

Association of Government Accountants
DBMS:

Database Management Systems
FedDMV:

Federal Data Management and Validation
FMSS:

Federal Mission Software Solution
GAO:

Government Accountability Office
MTED:

Market and Trade Economics Division
NASS:

National Agricultural Statistics Service
PACER:

Public Courts Online Access System
TRDb:

Traditional Relational Database
USDA:

United States Department of Agriculture
Declarations
Acknowledgments
The authors would like to convey their thanks to the staff of the United Stated Department of Agriculture - Economic Research Services (ERS); especially the Applications Development Branch (ADB) and the Market and Trade Economics Division (MTED). The views and opinions expressed in this research paper are those of the authors and do not reflect the official policy or position of any agency or department of the U.S. government.
Additionally, an acknowledgement goes to the following George Mason University students for their help and hard work with the federal projects: Gowtham Ramamoorthy, Manish Dashora and Samantha Dcosta.
Availability of data and materials
The actual Data is not shared because this is federal data and parts of the data set are private or confidential, therefore, we are not allowed to share it. However, to get a sample data set visit: http://ers.usda.gov/data-products.aspx. All the software tools used in the experiments and as part of FedDMV are available via the online sharing website (Dropbox), upon request from the author.
Authors' contributions
FB worked on the overall design and development of the FedDMV model and the associated system, executed the experiments, collected data for the comparison study, and interacted with the federal employees on frequent basis. FB wrote multiple sections of this manuscript and provided the illustrations. RY worked with the federal agency management to setup the experiments. RY wrote multiple sections of the paper and provided multiple insights. LD developed the tool, and executed some of the experiments. LD also wrote some parts of the paper. All authors read and approved the final manuscript.
Competing interests
The authors declare that they have no competing interests.
Consent for publication
Not applicable.
Ethics approval and consent to participate
Not applicable.
Open AccessThis article is distributed under the terms of the Creative Commons Attribution 4.0 International License (http://creativecommons.org/licenses/by/4.0/), which permits unrestricted use, distribution, and reproduction in any medium, provided you give appropriate credit to the original author(s) and the source, provide a link to the Creative Commons license, and indicate if changes were made. The Creative Commons Public Domain Dedication waiver (http://creativecommons.org/publicdomain/zero/1.0/) applies to the data made available in this article, unless otherwise stated.
Authors' Affiliations
(1)
College of Science, George Mason University (GMU), Fairfax, USA
(2)
Department of Computer Science, George Mason University (GMU), Fairfax, USA